BRAND INTRODUCTION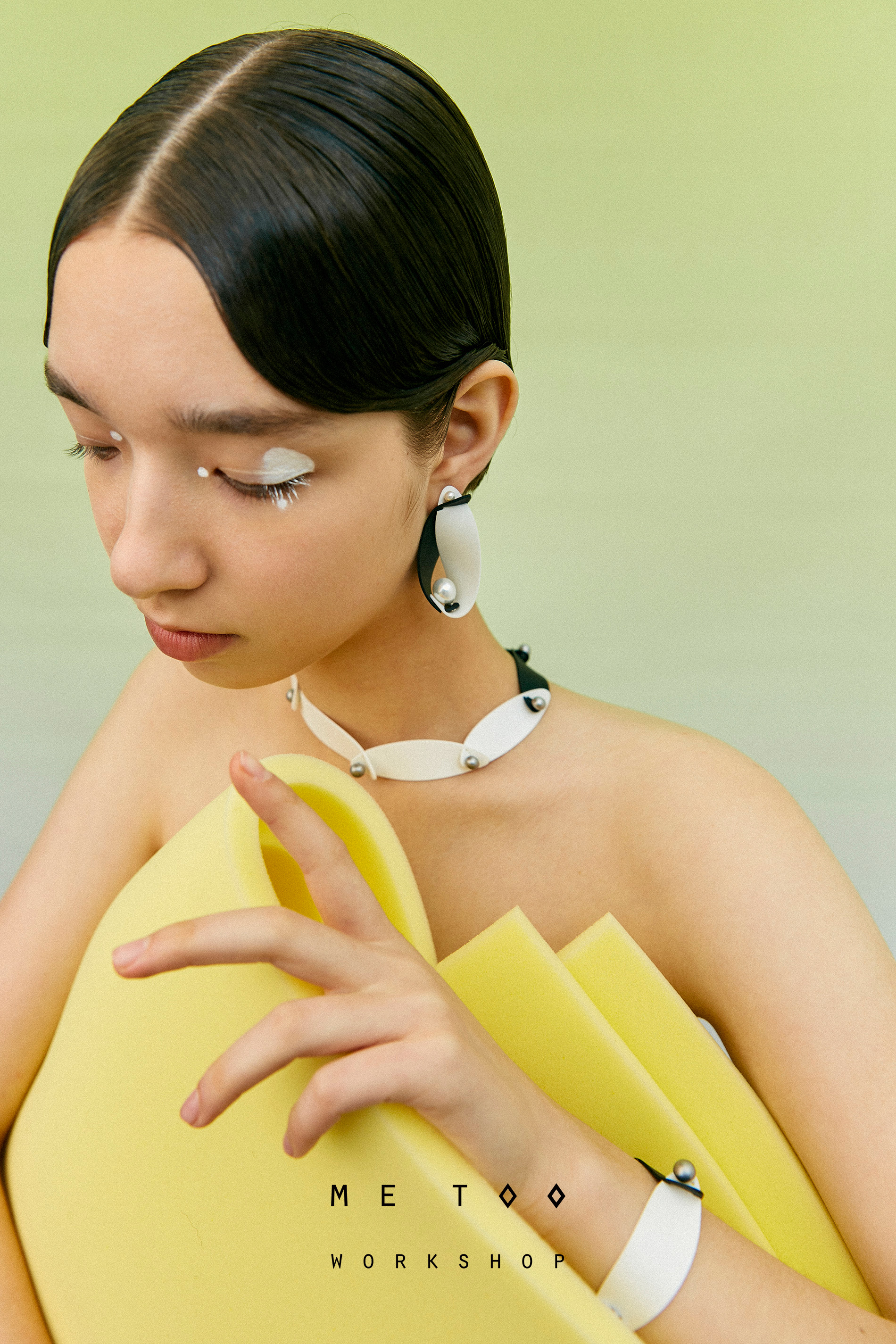 METOO WORKSHOP 成立于2015年。有时,我们会因为某些共同喜好的事情脱口而出
"Me too!"
这些源于日常生活的动容触点,正是我们品牌的内在价值,希望能在这里找到你的"也是"。
METOO WORKSHOP 致力于深度发掘材料本身所带来的潜能和惊喜
陶泥-作为我们目前的一种设计材料
不仅因为它质量轻从而减轻首饰佩戴的负担,还能模拟出大理石的复杂纹理或是干净利落的几何切割,天生的哑光质感更能赋予产品本身的优越感。全部手工切割打磨,赋予每个饰品独特的纹理,让她们只属于独一无二的你。
METOO WORKSHOP 在未来的日子里,也会去寻找一些有趣的艺术家、手工艺人、设计师来进行共同创作,尝试更多不同材质的可能性,带给大家更多有趣的东西。
METOO WORKSHOP was founded in 2015 in Beijing. Sometimes my friends and I blurt out "Me too!" because some common preference or same touching point. We hope you can also say "Me too" when you feel some point in our band. That also is the value of our brand.
METOO WORKSHOP is dedicated to exploring the many possibilities and potential of jewellery, from styling to materials to how to wear it. At present, the main material in the brand is clay. We choose clay not only because of its lightweight, which makes the wearer feel comfortable; but also because it can be made into a variety of complex texture and geometric structures.
Each jewellery piece is handmade and hand polish; therefore, each piece is unique and has its own texture.
In order to avoid the wearer allergies, all the metal findings are sterling silver or gold-plated. There also has contrast and compare between the minimal structure of jewellery findings and complex texture on the clay.
In the further, METOO WORKSHOP will look for some artists, craftsmen and designers to collaborate. We can play and explore more materials to find the more possible of its and apply into jewellery. METOO WORKSHOP will continue to design and produce original, affordable, and high-quality jewellery and related products for everyone.