BRAND INTRODUCTION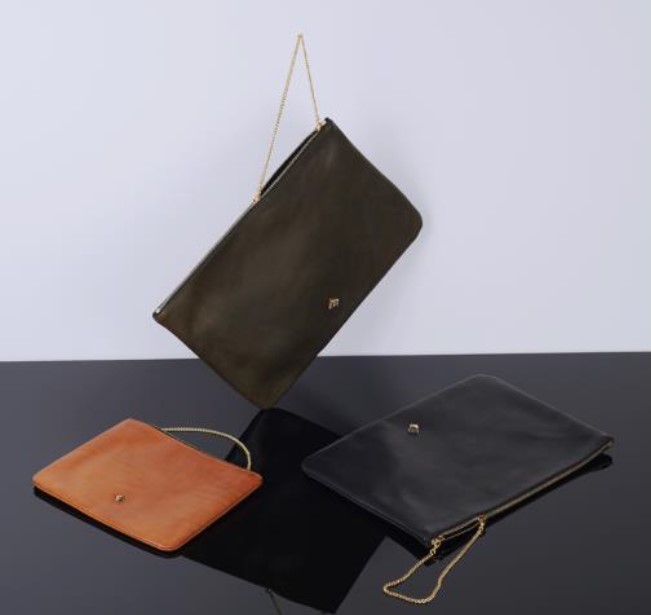 Herbert Frère Soeur
Camille worked in the music industry; Flavien, a globetrotter, worked in a pharmaceutical laboratory. The pair led separate lives until a family inheritance brought them together.
In their father's leather workshop founded in Brittany more than forty years ago, the duo began inventing timeless leather goods with a desire to uphold the craft's true worth: bags and belts that combined refined shapes, fine candle-like leather and a modern touch that continues to define today's classics. They baptised the house "Herbert", their family name, and added their sibling bond to the label: brother and sister.
Herbert Frère Soeur was born.
Once they had each fulfilled their initial professional goals, Flavien and Camille pursued a special ambition as if honouring a vow taken in adolescence: to preserve the know-how of their father, "Georgy", who had set up his leather workshop in Fougères in 1977.
To begin with, they rewrote the rules of high-end leather craftsmanship, producing Le Facette*, their first brand. Later, Flavien and Camille Herbert devoted their expertise to Herbert Frère Soeur, offering bags and belts designed to suit and sublimate everyday life: a line of finely shaped articles, designed in Paris by Camille and produced under the auspices of Flavien in the paternal workshop.
With thick leather offering a candle-like feel and acquiring lustre with age, Herbert Frère Soeur leather goods embody that indestructible bond that binds all siblings. Although the calfskin comes from the Périgord, Limousin and Brittany regions of France, the tanning takes place in Italy with oak and mimosa bark, following the procedure of vegetable tanning that makes the leather appear highly authentic. This process keeps the skin's original appearance, with surface unevenness and nuanced hues making the leather sensual. Only skin from the upper body, at shoulder level, is chosen so as to provide greater strength and offer collections of bags and belts that are both enduring and contemporary.
Camille曾从事音乐相关的工作,Flavien则是一名背包旅游爱好者,曾在制药实验室工作过。这对各自有着不同生活的兄妹最终因继承家产而聚到一起。在他们父亲40多年前创立于布列塔尼地区的皮革工坊内,这对兄妹开始探索制作具有永恒价值的皮革制品,并希望借此传承起家族工艺的真正价值:集优雅外形,精致蜡感皮革,以及现代触感于一体的手袋及腰带,持续定义当今的经典。兄妹二人将家族姓氏 "Herbert" 命名父亲的工坊,然后将 "兄妹" 关系加入品牌,至此:Herbert Frère Soeur品牌应运而生。
就像是为了兑现年少时封存已久的心愿,Flavien和Camille在各自实现自己的最初的职业追求后,产生了相同的理想抱负:将父亲Georgy于1977年在Fougère创立的制革工艺传承下去并继续发扬光大。
起初,他们重塑了高端皮具生产的传统规则,创立了自己的首个品牌Facette。 接着,兄妹二人将自己从中累积的专业只是运用到Herbert Frère Soeur中,推出适用于日常生活并为之添彩的包袋和腰带:一系列外形精美的物件,由Camille在巴黎设计,接着在Flavien的主持下,在父亲的工坊内制作。
Herbert Frère Soeur的皮具采用厚实的"蜡感"皮革,能因年久而产生光泽,历久弥新,就像是创始人兄妹俩之间坚不可摧的关系纽带。虽然小牛皮来自法国的佩里戈尔,利穆赞和布列塔尼地区,但在意大利采用橡木和含羞草皮进行制革,按照植物鞣制程序,使皮革看起来非常真实。 这个过程保持了皮肤的原始外观,表面不均匀和细致的色调使皮革更富有原生态质感。我们只选用小牛肩部以上部分的牛皮,既保证了手袋和皮带的坚实耐用,又确保其持久的时尚感。
https://herbert-freresoeur.com/
flavien.delaportbarre@holdax.fr